If you're looking for a work boot that offers protection, comfort, and durability in all conditions then you'll want to check out the Danner Vicious review. This is an EH-certified work boot with composite toe (NMT) that will keep your feet safe on the job site. Read the Danner Vicious Review for more details.
These boots are available in a range of colors and heights. There are both 8″ and 4.5-inch versions, which come with composite toes too! I'll discuss all the options here today to help you make your decision easier than ever before!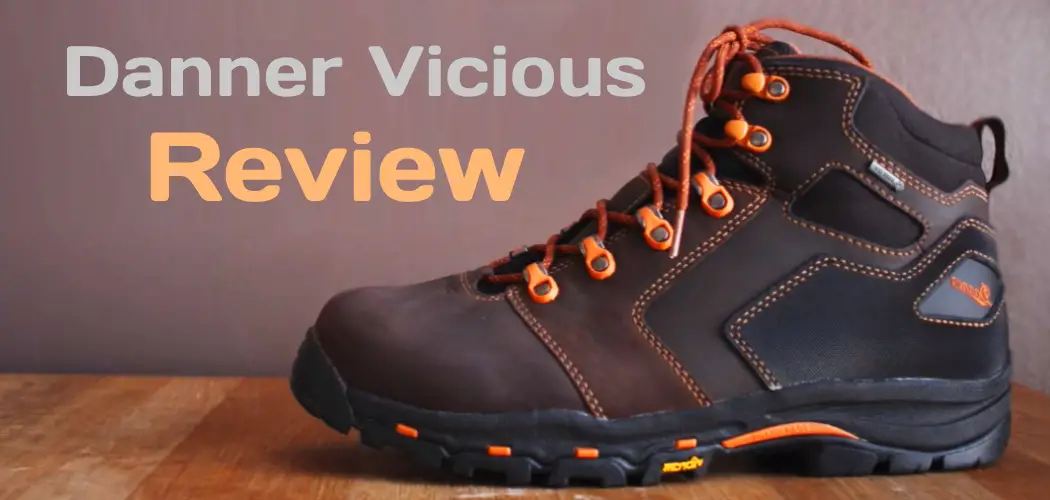 Danner Vicious Review and All Features of Vicious Series Boots:
Full-Grain Leather Upper: 
he high-quality full-grain leather upper makes the boot premium quality. They tested different types of leather six times and found this leather most solid and durable. If you take a closer look at the leather, you will find it really soft and smooth. It is not heavy leather, but it has this kind of rough feeling which makes you think that these boots will last for years!
ORE-TEX (GTX) Waterproofing Technology: 
his lining ensures comfort during cold days while its waterproof feature prevents getting wet without any problems. The Gore-Tex liner is perfect for wet conditions. And, it will make sure that no water gets in the boot while walking around on a rainy day.
Vibram Vicious Outsole: 
The outsole is made from rubber and has a specific tread pattern. It ensures good grip in wet conditions like rain or snow, but also in dry conditions, which are perfect for rock climbing. While wearing these boots, I noticed that they always provide excellent traction because of the outsole.
Shank: 
The shanks are made from nylon, and they provide stability to your feet while walking around on different terrains, even when it is slippery outside. What I really like about these boots is that you don't lose the center of balance because of how well-made the boot's construction is.
Electrical Hazard (EH) Protection: 
This is a very important safety feature and it's hard to find these days. It provides protection from live electrical circuits that are exposed because the material of this boot has limited contact with the ground.
Insulated or Non-Insulated Boots: 
There are both insulated and non-insulated versions of Danner boots available, so make sure you know what type suits your needs best!
Oil and Slip resistant:  
It is important to have something on your feet that will not only protect you but keep you from slipping as well.
Speed Lace System: 
This feature makes it easier than ever for a person to do the lacing up of their boots. They also provide extra grip and stability while walking around in different environments.
Composite Toe (NMT): 
A composite toe boot provides outstanding protection with its protective sole all the way down to where your toes are at! It has an EH rating too, which is another safety bonus when wearing these boots outside or inside any environment!
EVA Midsole: 
EVA is an acronym for Ethylene Vinyl Acetate. This midsole provides a nice little cushioning while you are working in your boots so that it does not feel like you're walking on concrete all day long!
Danner Trail guard: 
This feature is for those rough, harsh environments that you are working in. This makes it so your boot will be able to handle the wear and tear of a workday as well as giving protection from anything hazardous! By providing stability underfoot, makes it, so your joints will not be put under any pressure as well!
90º heel: 
This heel is perfect for when you are on your feet all day. It provides a nice little relief to keep you from feeling any soreness or pain in the back of your legs! It will help you to climb or hike or walk!
Metatarsal Guard:  
This is a really great feature that helps to keep your feet from hitting the inside of an unlined boot. The Floating PU metatarsal guard provides impact protection across the top of your foot while still maintaining mobility and comfort.
Footbeds: 
Polyurethane footbeds provide comfort all day long without sacrificing traction or durability; they have anti-microbial properties too which helps prevent odors
Not All of these features available in all versions of these boots. Please take a look at the comparison chart below to understand all variations of the boot.
What Is Special in These Boots:
Material: 
The leather is water-resistant, breathable, strong, and durable; it also has a non-slip rubber sole which helps with traction on any surface!
Sole: 
The Vicious boot offers a lugged outsole that allows you to maneuver over different types of terrain while still being able to provide comfort at the same time.
Weight: 
With these boots weighing around three-pound, they're not too heavy yet lightweight when compared with other work boots or regular shoes. This means you won't feel tired after wearing them all day long – perfect for athletes who need to be constantly on their feet!
Protection: 
The Danner Vicious boot is certified to the ASTM F2413-11 I/75 C/75 EH standard, which means it has a composite toe with protection against both impact and compression.
Fit and Size: 
These are made in medium width and they're true to size meaning you'll want to select your normal shoe size when ordering.
Durability: 
The Vicious boot is Danner's most durable work boot yet, which means it will withstand the wear-and-tear of everyday abuse!
Warranty: 
Danner is offering 365 days warranty for this boot if you purchase from them. If the product is defective or if you don't like it, Danner will replace the product with a new one or refund your money.
[wpsm_column size="one-half"][wpsm_pros title="PROS:"]
Lightweight
Comfortable
Durable
Great traction on any surface
Waterproof
Protective
[/wpsm_pros][/wpsm_column][wpsm_column size="one-half" position="last"][wpsm_cons title="CONS:"]
The cost is high for some people's budget.
[/wpsm_cons][/wpsm_column]
RECOMMENDATION: These boots are great for all-around work or even everyday wear because they're lightweight, durable, have protective features like the composite toe that protects against impact and compression, plus they provide comfort with their lugged outsole.
If you have an extra $200 in your budget, then we recommend purchasing these Danners!
Frequently Asked Questions
Are Danner Vicious Boots Waterproof?
Danner Vicious Boots are not waterproof. Waterproof means that the material and construction will prevent water from penetrating through it.
The following materials are usually used in Danner boots:
Leather- Danner boots are made of leather and polyester lining that provides protection against cuts, scrapes, abrasions, bruises, and other minor injuries.
Rubber- The rubber sole provides traction on slippery surfaces like ice or snow.
Is Danner a Good Shoe Brand?
The company Danner was founded in 1853 and had been manufacturing boots for the U.S. military since 1908. Danner is one of the most trusted brands when it comes to its product quality, customer service, and overall performance of the shoe.
One thing that makes Danner a good shoe brand is its commitment to innovation and sustainability, which leads to ethical practices and policies in all aspects of production.
Are Danner Boots Made in Vietnam?
No, Danner Boots are not made in Vietnam. Danner is a brand of footwear manufactured by the Vibram company. The first store was opened in 1904, but Danner boots were first introduced to the public in 1915.
What Are Danners Most Comfortable Boot?
It is important to find a pair of boots that fit your foot and provide the right amount of support. The right choice will depend on how much walking you do, how often you plan to walk, and what type of terrain you are walking in.
If you plan to be hiking in the woods or through rough terrain, then choose a boot with ankle support and rubber soles. If you plan to walk around town, then go for a lightweight leather shoe with steel or aluminum toe protectors.
Where Does Danner Source Their Leather?
Danner sources their leather from a variety of tanneries around the world. They have worked with many reputable companies over the years to create a special blend of leathers that Danner is known for. The United States is one of their largest suppliers and Canada, Italy, and China.
Conclusion
Danner boots are the perfect way to finish off your outfit. They provide a rugged yet stylish look that is both functional and fashionable at the same time. We hope you found this Danner vicious review helpful! If you'd like to learn more about these or any of our other products, please contact me for an in-depth consultation with one of our experts.