Insole shoes inserts are a great way to provide extra support and comfort for your feet. They can be helpful for people who have foot pain or those who want to add cushioning when they walk. In this article, We will show you how to wear insoles in shoes in this article!
There are many different reasons people might need to wear insoles in their shoes. Perhaps you have foot pain and need some extra cushioning, or maybe you're looking for a way to improve your balance. So that you can get the most out of them.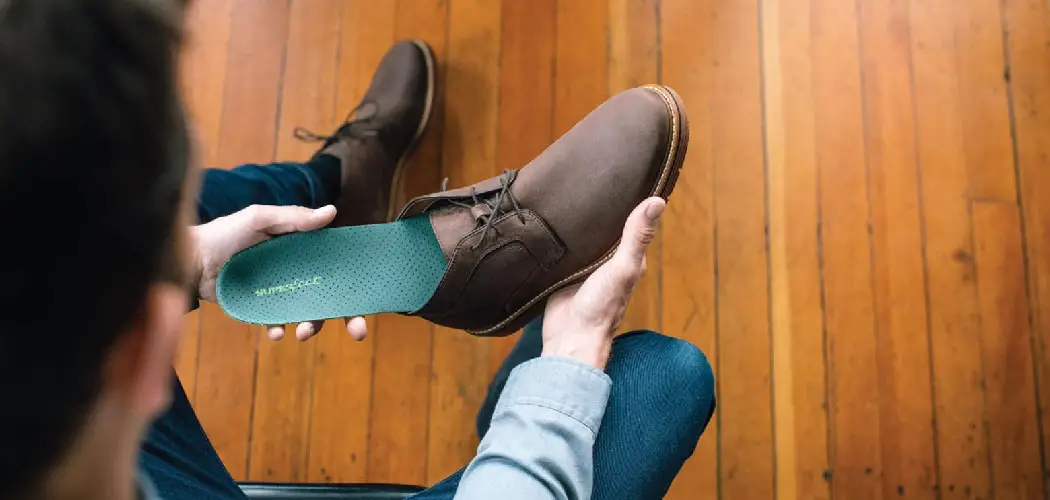 What Are Insoles?
Insoles are tiny, removable soles that fit inside of your shoes. They can alleviate pain and discomfort caused by bunions, corns, flat feet, plantar fasciitis, over-pronation (flat-footedness), or under pronation (high arches). Insoles also support the heel and angle of the foot, helping distribute your weight evenly throughout your entire foot.
Things You'll Need
Insoles
An extra pair of shoes or flip flops
A sock or two (optional)
A Step by Step Guide on How to Wear Insoles in Shoes
Step 1: Determine
This depends on the type of foot problems you are looking to resolve with an insole's extra cushioning. There are three types of insoles:
– Three-quarter length, a shorter version that fits into sneakers and most casual shoes. It can be bought at many department stores for around $10-$20.
Total length is for running shoes, skateboarding shoes, or hiking boots and usually sells between $15 to $60 at various locations, including online sites. Be sure to purchase the correct size based on your shoe size so it will fit snugly inside your footwear.
– Custom orthotic insoles may be recommended by a medical professional if you have serious foot problems. It may be more expensive than other types, but it is the most effective for people looking to resolve their particular issues.
Step 2: Choose Your Insole Type and Size
There are many different insoles on the market today, some more expensive than others. Therefore, it is essential to find the right type for your particular needs. Your decision should be all factor in how you will use your footwear, such as casual wear or exercising, and what kind of foot problems you want to resolve.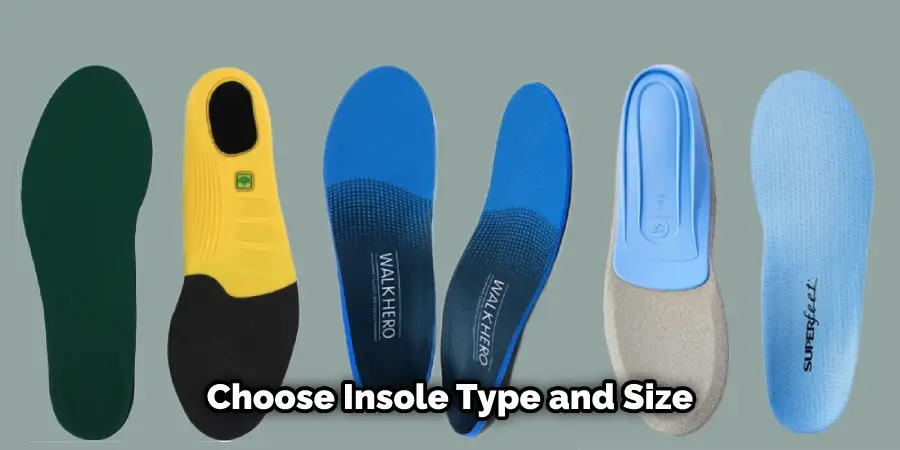 For example, suppose you have serious foot issues like plantar fasciitis, running injuries, or other long-term conditions that leave your feet in pain. In that case, it may be a good idea to seek out a medical professional's advice on this matter so they can recommend the best option(s) for your needs.
Step 3: Insert Your Insoles Into Your Shoes
After choosing an insole based on its material and type, it is time to put the device into your footwear. This will depend on how much cushioning you need and what kind of footwear you use. How you proceed with this process may vary depending on which insole you bought and its design.
Step 4: Trim Insole to Fit Shoe
If your insole is too long for your shoes, you may need to trim the excess off. How much length you take-off should be based on how wide or narrow your footwear is and if it will affect its fit.
You can use a shoe repair kit or sharp scissors to make this cut; however, it is not recommended to do this yourself unless you are experienced because it increases the risk of making an unnecessary mistake that could affect the way the insoles work inside of your shoes. Nevertheless, this is a crucial step in how to wear insoles in shoes.
Step 5: Wear Shoes With Insoles
Once you have slipped your insole into place, put on your other pair of shoes as well before deciding whether they brought about any changes to improve how they felt when you walked or ran. How well they performed may vary based on the type of footwear you were wearing, its material and design, as well as its fit.
Step 6: Wear Your Insoles Around the House
The insoles that we use for our feet take a lot of abuse from everyday wear and tear and chemicals like sweat and water damage. Therefore, it is essential to give them some time alone to rest to become effective once more when wearing them for running or other sports later on. For most people, this means wearing them around the house for about an hour several days a week to let them breathe before putting them back into your workout footwear.
Step 7: Wear Insoles with Flip Flops for Extra Support
Another way to wear insoles is by inserting them into your summer-time flip flops. This will provide extra cushioning and support so you can be on your feet all day long during the hot, sticky days of summer without ruining your feet in the process.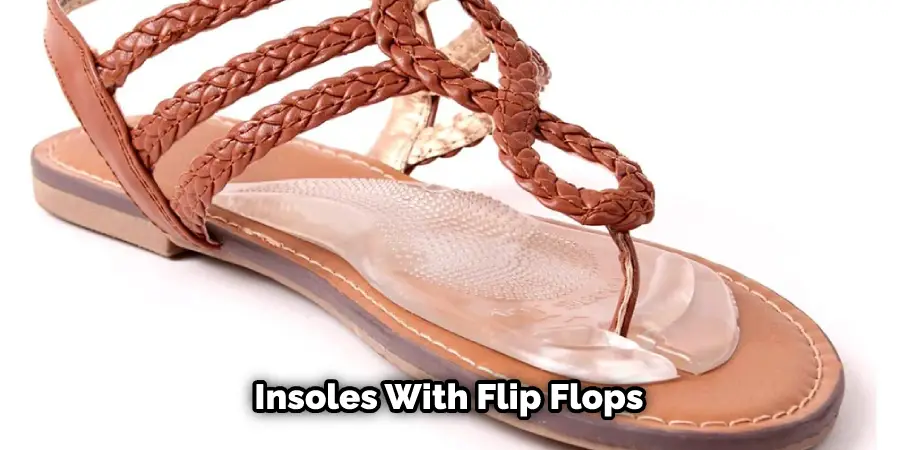 To do this, follow the exact directions as above but insert them into each toe compartment before putting them on. You can also insert full-length insoles into thong styles if you want to maximize comfort for extended periods outside.
Step 8: Wear Insoles with Socks
If you prefer, you can cover your insoles with socks before inserting them into your shoes. This will provide extra cushioning and support and keep odors down and help your insoles last longer without the risk of them detaching from their original form. Just remember to take them out every once in a while so they can breathe after wearing these cozy additions for several hours at a time. These steps will help in how to wear insoles in shoes.
You Can Check It Out to Why Do White People Wear Shoes in the House
Tips and Warnings
Tips
Try some of the following insoles to increase your level of comfort.
Superfeet Insoles Dr. Scholl's Massaging Gel Insoles Odor-Eaters Lace-Ups
Wear a pair of socks that wick away moisture and help prevent blisters, just as you would when wearing regular shoes.
If possible, alternate between two pairs of insoles, so they have time to dry out in between uses.
When trying on new boots or shoes, try them on at the end of the day when your feet are already swollen. This will give you an idea of how your feet could fit into these shoes after a long day on your feet, not just right when you get up in the morning! Once you have decided which pair of shoes you want, try wearing them with insoles.
If your feet are still tender after your first day of trying to wear the shoes with inserts, don't give up! There are different insoles for different needs like shock absorption and extra cushioning. Be sure to experiment to see what works best for you.
Be sure that the boots or shoes you choose do not need to be broken in before they will fit comfortably. For example, once boots become too big for your feet, it becomes difficult, if not impossible, to break them incorrectly.
If you're experiencing problems breaking in new shoes, consider getting fitted for custom orthotics instead. They provide additional arch support to prevent many of the discomforts associated with new footwear.
With all of the products available to wear in shoes, many different options can help you walk more comfortably. By trying out other insoles, you will be sure to find what is best suited for your feet and your specific needs.
Warnings
Don't wear insoles in shoes that are too small or too large.
If you notice any pain, swelling, numbness, or discomfort while wearing insoles in your shoes, then take them out as soon as possible and see a doctor if the problem persists.
Insoles should not slip when worn inside a shoe, so make sure to use those with stickier surfaces such as rubber.
You Can Check It Out to Wear Hiking Shoes Everyday
What Are the Benefits of Using Insoles While Running or Walking?
Many reports state that insoles can help reduce foot fatigue while walking or running on hard surfaces like concrete sidewalks or gym floors. In addition, by absorbing the impact of walking, they lessen foot and leg soreness that can occur after a strenuous workout or after hours on your feet.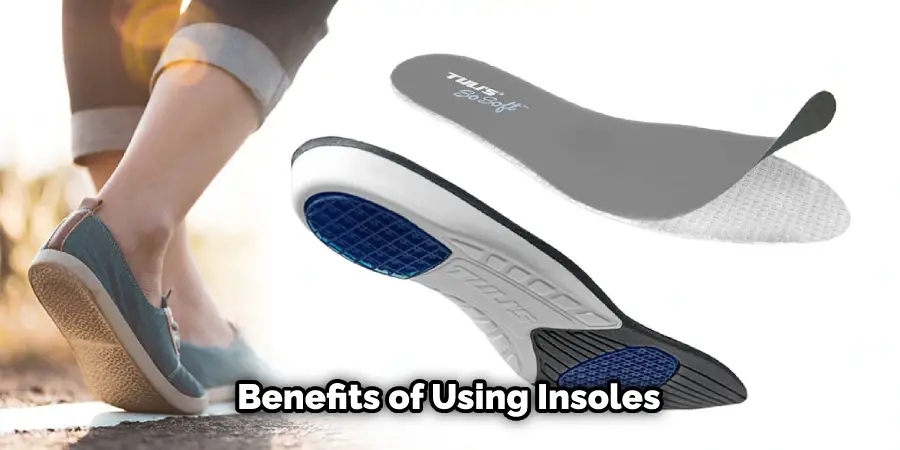 Insoles reduce the risk of injuries to joints and tendons in the legs, hips, and lower back. In addition, inhibiting excessive movement while running may help prevent overuse injuries from happening in the first place or enable you to recover more quickly if they do occur.
Those looking for relief from everyday aches and pains associated with high-impact exercise often choose insoles that are curved in shape. These provide added cushioning in certain areas where extra support is needed most: at the heel and under the foot's arch.
Conclusion
Follow the article on how to wear insoles in shoes. There are a few different ways to wear insoles in your shoes. You can place them on the inside of the shoe, or you could put them on top of an existing insert for better support and cushioning. Doing so will help ensure that you have more comfort when walking around all day long!
Insoles also come with various levels of arch support based on how high your arches need to be supported. If yours tend to fall flat after standing up for too long, we recommend getting some inserts made specifically for those types of feet.