There's nothing like a good pair of shoes to make you feel confident and polished. But if your shoes are looking a little worse for wear, don't despair – it's easy to give them a fresh new look with some shoe polish. In just a few simple steps, you can have your shoes looking as good as new.
Read on for instructions on how to polish shoes to a mirror shine. This blog post will teach you how to take care of your shoes and bring out the best shine. So grab your polishing supplies and let's get started!
Things You Will Need
Black shoe polish
Brown shoe polish
A soft cloth and a brush (for the heel)
8 Steps Instruction How to Polish Shoes to a Mirror Shine
Step One
Make sure your shoes don't have any major blemishes or scratches. Polish will cover up some nicks and scratches but not all of them, so if they're wrong, it's best just to buff them out with an emery board. If there are no visible defects, go ahead and put on your polishing gloves that protect your hands from getting dirty and keep the oils in your skin from staining or damaging the leather. Now take either black or brown polish, depending on what color your shoes are and rub off a dab onto the top of the shoe.
Step Two
Now, rub this into the shoes with your cloth until you have covered all parts of the shoe that are not supposed to be white or lighter than their final color. Black goes on black, brown on brown, etc. Apply leather conditioner if necessary and let it dry for about an hour before applying another coat so that your shoes can get shiny. Repeat step 1 with either black or brown polish, depending on what kind of shoe color you have already finished up with so far.
Step Three
Apply leather conditioner: If you have leather shoes, it is important to condition them every few months or so with a specialized leather conditioner. This will help keep the leather soft and supple and protect it from drying out or becoming brittle. Next, let the shoe polish dry: Once you are done applying the polish, give it a few minutes to dry before moving on to the next step.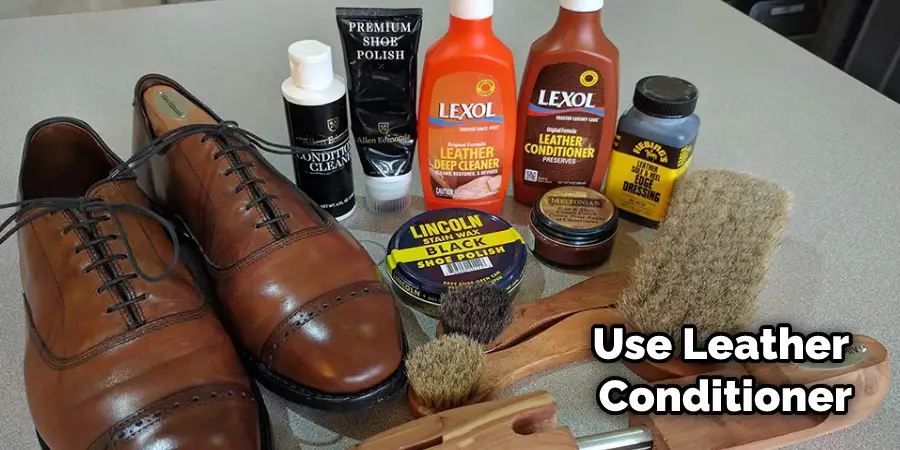 Step Four
Apply a second coat of polish: If your shoes look a bit dull after the first coat of polish, go ahead and apply a second one. Be careful not to put too much on at once, or it will end up looking like you just smeared mud all over them!
Take your brush and buff the shoes in a circular motion. This will help to remove any excess polish and give them that mirror shine. Next, wipe down the soles of the shoes with a damp cloth to remove any polish or dirt that may have gotten on them while you were polishing. Finally, let the shoes dry entirely: Give them plenty of time to dry before wearing them. Overnight is best, but at least 3-4 hours should do the trick.
Step Five
If you want to take your shoes from mirror shine to blinding chrome, finish up with a coat of Saphir Mirror Gloss. This will give them an extra layer of protection and make them look even more dazzling than before. Then, let the shoes dry for at least 24 hours before wearing them.
Step Six
If you're polishing boots, your process will be a bit different. Just as before, make sure they don't have any significant scuffs or scratches and apply black polish if they are dark brown and vice versa for lighter colors.
Use Kiwi boot wax instead of leather conditioner. Once the shoe is polished, buff it with a brush for a few minutes until the shine comes through again. Then, apply a second coat of boot wax to seal off the shoes from water and dirt so that they stay clean longer.
Step Seven
Make sure your shoes are completely dry before wearing them again. Putting wet shoes on can stretch out the leather and ruin their shape so give them some time to air out overnight, or you can speed up the process with a hairdryer.
Step Eight
If you're storing your shoes for an extended period, it's best to put them in a shoe bag or box so that they don't get dusty or scuffed. You can also use a cedar shoe tree to help keep their shape.
You Can Check It Out to Make Shoe Goo Dry Faster
Tips and Warnings
Tips
Use a horsehair brush to apply polish evenly.
Apply polish in a circular motion, making sure to cover the entire shoe.
Let the polish dry entirely before shining with a soft cloth.
Repeat as needed for optimal shine.
Warnings
Do not use harsh chemicals or solvents to polish your shoes.
Do not wet the shoe before polishing, as this will cause the polish to streak.
Do not overpolish the shoes, as this can damage the surface of the leather.
Does Shoe Shine Damage Leather?
There is some debate over whether shoe polish damages leather in the long run. Some people say that it creates a build-up on the surface of the leather, which can lead to cracking and other problems. Others say that the only way to keep your shoes in good condition is to regularly clean and polish them, which can include going over them with a shoe brush or soft cloth and applying warm water with a sponge, followed by using some glycerin soap. 
However, most professionals agree that if you use a quality polish and apply it correctly, it will not cause any damage. Regular application of shoe polish can help protect your leather shoes from moisture and dirt and keep them looking their best for longer.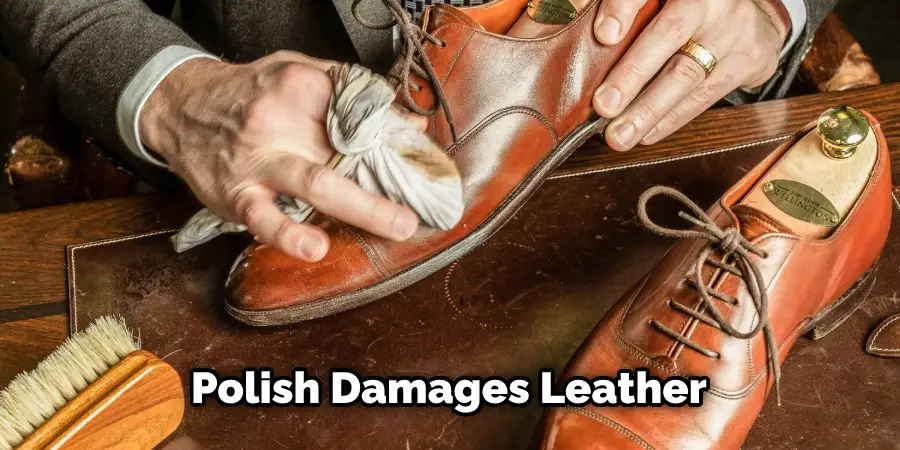 What Kind of Polish Should I Use?
There are many different types of polish that you can use to shine your shoes. For example, you can choose between a cream or wax-based polish or select a liquid polish. It is essential to choose the right type of polish for the material of your shoes. For example, if you are polishing leather shoes, you should use a cream-based polish. On the other hand, if you are polishing synthetic shoes, you should use a liquid polish.
If you are polishing patent leather shoes, you can choose one of the types of polish listed above. Because patent leather is made of plastic material, it can be easily polished with any polish.
Conclusion
Follow the instructions on how to polish shoes to a mirror shine. We hope you've found this article helpful and that it will give you the confidence to polish your shoes like a professional. If not, don't worry! You can always contact us at any time for more information on how to get started or with questions about what kind of shoe care products are right for you.